PAPER & MIXED MEDIA ARTS FOR KIDS
Wednesdays 2:00 – 5:00 pm (No class Nov 27)
Instructor: Lisa Hall
Sept $54.00, Oct $90.00, Nov $54.00, OR $20.00 per class
Join us for fun art projects for kids ages 9 & UP. You take home your finished product at the end of each class (unless it needs time to dry). Create a different project each week using stamping, drawing, paints, embellishments, stickers, glitter, and much more. Check our online registration system or our Facebook for project descriptions. Register early, space is limited.
TEEN FITNESS TRAINING
$25.00 drop-in fee. Free with Annual Pass
Wednesdays 4:00-6:00pm
Ages 12 – 14 years
September 11th, October 2nd, October 30th, November 13th, December 4th
Pre-registration required by parent. Minimum of 2 students, 2 hour session
• Understanding the FIIT principle, knowledge of basic muscle groups and types of strength training and other recommended guidelines for young adults.
• Fitness Center etiquette and appropriate use of exercise equipment for a safe workout.
• Specific training of cardio and strength machines in the fitness center.
• Upon completion you will receive a teen training card.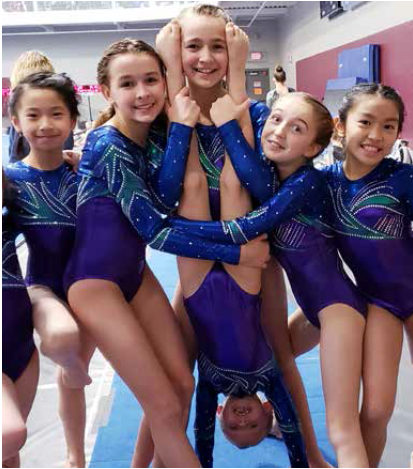 YOUTH GYMNASTICS
September - November
Mondays & Wednesdays (see below for classes, times, & prices)
(No classes Sept 2, Nov 27, & Dec 25)
Ages: 6 and up
Coach: Kelsey Janes
Contact: Ripcitygymnastics@gmail.com
fb.me/ripcitygymnastics
BEGINNING 1:
Mondays 4:15-5:00 pm, Wednesdays 3:30-4:15 pm
(Class max. 8)
MONTHLY FEES: Sept 1x Week $84.00, 2x Week $144.00, Oct Mon Only $84.00, Wed Only $105.00, 2x Week $162; Nov Mon Only $84.00, Wed Only $63.00, 2x Week $126.00.
Beginning 1 Gymnastics is a program designed to introduce students to a sport full of exciting challenges (mental and physical) that will help build strength, flexibility, coordination, and balance. Athletes will be trained to do many different skills on the floor, beam, vault, and bars. Proper stretching, technique, and understanding body movement are emphasized. Safety, fun, and more fun are priorities in this class.
BEGINNING 2/INTERMEDIATE:
(blended class): Wednesdays 4:15-5:00 pm (class max. 8)
MONTHLY FEES: Sept $84.00, Oct $105.00, Nov $63.00
May register by invitation only. Beginning 2 Gymnastics is designed for gymnasts who excel in Beginner 1 and need more of a challenge! Must have invitation to register. Must have cartwheel, handstand, bridge, and basic skills on the bar and balance beam. This is the next class level to prepare for Intermediate level. Intermediate students must have a basic gymnastics foundation and have experience on all equipment. Required skills: floor (forward and backward roll, cartwheel, handstand, and bridge, back-walkover, fronthandspring), bars (back hip pullover, cast, back hip circle). These classes are designed for gymnasts that want to transition from recreational to competing and learning routines. Emphasis on technique, drills, and conditioning. Please contact Kelsey Janes for more information.
PRE-TEAM:
5:00 – 7:00 pm
MONTHLY FEES: Sept $168.00, Oct $189.00, Nov $147.00
May register by invitation only. MUST have round-off back handspring. Please contact Kelsey Janes for more
information.
TEAM:
Mondays 3:45-7:45 pm, Wednesdays 2:45-7:45 pm
MONTHLY FEES: Sept $230.00, Oct $250.00,
Nov $240.00
Students may register by invitation only. Please contactKelsey Janes for more information.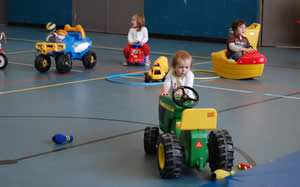 INDOOR PARK
Tuesdays & Fridays 9:30 – 11:30 am
Saturdays 9:00 am – 12:00 pm
Ages 4 and under
$2.00 drop-in per child
Join a parent/child play group atmosphere which provides a place for young children to play and be active inside. The play equipment is designed for walking through 4 years of age. Slides, ride-on toys, tunnels and more are available!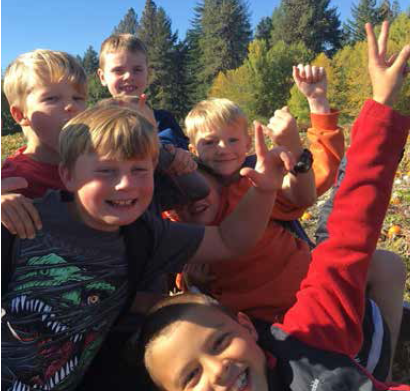 "SCHOOL'S OUT"
After School Program
Ages: 5-12 years
3:00-5:30pm Mon – Fri
$110/month or $10/day (does not include non-school days)
The monthly fee includes early release Wednesdays
Daily fee for Wednesdays is $15/day
Ride the bus to the rec center after school for fun activities.
Bring your swimsuit for swim Wednesdays!
(Bussing must be arranged through the school)
USDA and this institution are equal opportunity providers and employers.
NON-SCHOOL DAYS
Ages: 5-12 years
7:45 am-5:30 pm
$18.00/half day (up to 5 hours) $28.00/full day
Join us for a themed day of fun! Gym games, crafts, group activities, and more.
Includes lunch and afternoon snack