Warning
Looking directly at the sun is unsafe except during the brief total phase of a solar eclipse ("totality"), when the moon entirely blocks the sun's bright face, which will happen only within the narrow path of totality.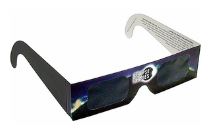 The only safe way to look directly at the uneclipsed or partially eclipsed sun is through special-purpose solar filters, such as "eclipse glasses" (example shown above) or handheld solar viewers. Homemade filters or ordinary sunglasses, even very dark ones, are not safe for looking at the sun. To date three manufacturers have certified that their eclipse glasses and hand-held solar viewers meet the ISO 12312-2 international standard for such products: Rainbow Symphony, American Paper Optics, and Thousand Oaks Optical.
Please review the following articles about how to safely view the eclipse.
Where to buy Eclipse Glasses