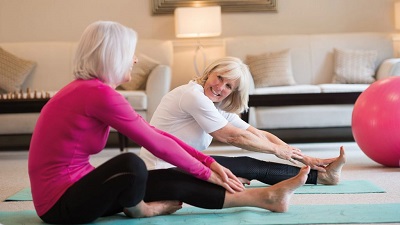 GENTLE YOGA CLASS
Tuesdays
1:00 - 2:00 p.m.
Enjoy a relaxing stretch-type class that is available for all levels. You must be able to get down and up off the floor. Modifications available.
This class will be led by Deborah Marsh.  

WINTER HEART HEALTH
Wednesday, December 13, 2023
2:00 - 3:00 p.m.
Wintertime brings with it so many delights, but it's also a season that can be high risk for cardiac events and weather-related injuries. Join Helen Beaman, Older Adult Behavioral Health Program Specialist with CareOregon to learn about the ways that cold weather impacts your cardiovascular health. You'll also learn about the signs and symptoms of a heart attack and hypothermia. We'll finish the talk by discussing practical tips for navigating the cold months of winter, without missing any of the fun, of course!

GUITAR LESSONS
Every other Thursday
Beginning Guitar Lessons, 2:00 - 2:30 p.m.
Advanced Guitar Lessons, 2:30 - 3:00 p.m.
Lessons taught by local guitar teacher/player Don Sansone
All of the classes/programs offered at the Newport Recreation Center and the Newport 60+ Activity Center are now available to sign up for online. Go to www.newportoregon.gov/sc and click on the yellow banner to browse the catalog. Also, the Recreation Center home page has really good videos on how to create an account and sign up for classes. Another option is to call the office @ 541-265-9617 and someone can sign you up! 541-265-9617.