Message from the Chief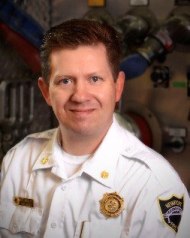 Welcome to the Newport Fire Department official website. NFD is comprised of 27 volunteers and 11 staff. We serve approximately 12,500 residents and 5,000-15,000 guests in the City of Newport and surrounding Newport Rural Fire Protection District. We serve these areas out of three fire stations. We are a proud, service-oriented organization with a rich history. Starting as Newport Hook and Ladder Co. No. 1 on May 4, 1885, we have adapted and grown along with our community. We provide first-rate Emergency Services including: Fire Suppression, Emergency Medical Services (including Advanced Life Support), Motor Vehicle Accident Rescue and Extrication, Hazardous Materials Response, Marine and Beach Fire/Rescue Response, Fire Inspections, Investigations and Public Education. We actively participate in community activities like Newport Seafood and Wine Festival, Newport Marathon, Holiday Toy Drive, and Newport High School Senior's Grad Night.
I invite you to please look around our website. You will find new features such as commonly requested forms, new links and more photos.
Thank you,
Rob Murphy
Fire Chief
Outdoor Yard Debris Burning
Beginning on Monday, June 17th, outdoor yard debris (also known as "open burning") will be closed for the summer for both the Newport Fire District and Newport Rurual District and will reopen in the fall.
Recreational fires, inside the city limits, are still allowed and do not require a permit. However, outside the city limits, in the Rural Fire Protection District, a permit, or waiver, is required by ODF. A recreational fire is an outside fire, not bigger than 3 feet by 3 feet, used for pleasure, religious, ceremonial, cooking, warmth or similar purposes.
Many Lincoln County fire agencies require a permit to burn yard debris. We encourage the public to contact their local fire agency for specific regulations regarding burning of yard debris.  
Newport Fire

541-265-9461

Central Coast Fire

541-563-3121

Depoe Bay Fire  

541-764-2202

North Lincoln Fire

541-996-2233

Seal Rock Fire

541-563-4441

Siletz Fire

541-444-2043

Yachats Fire

541-547-3266

Toledo Fire

541-336-3311

Oregon Dept of Forestry

541-336-2273
updated June 14, 2019