C.E.R.T.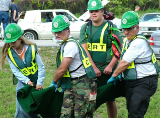 The Community Emergency Response Team (C.E.R.T.) meets on the third Tuesday of each month from 6pm-7pm at the Oregon Coast Community College

More information about the Newport CERT program can be found on the Oregon Central Coast CERT Program website.
The Lincoln County CERT Program website also has information for the wider distict.
What is CERT Training and Who Should Take it?
CERT is a 9-week course with a class which takes place each Spring and Fall. CERT is designed and implemented to teach anyone and everyone how to take care of themselves and their families in case of a major disaster, such as a major earthquake or tsunami. In this course you will learn how to do everything from how to prepare for a disaster to disaster psychology. The course is free and the materials are supplied.
Newport CERT Training Program
Disaster Preparedness
Fire Safety

Type of disasters and role of disaster workers

The impact on the Community infrastructure

Structural and non-structural hazards

Hazard Mitigation

Home and workplace preparedness

Community preparedness Teamwork

Protection for Disaster Workers

Fire Chemistry

Fire Hazards

Fire Safety

Use of Portable Fire Extinguishers

Fire Suppression Safety

Hazardous Materials

Disaster Medical 1
Disaster Medical 2

Life threatening Conditions

Triage

Public Health Considerations

Functions of Disaster Medical Operations

Disaster Medical Treatment Areas

Patient Evaluation

Basic Medical Treatment

CERT Organization
Light Urban Search and Rescue

CERT Organization

Rescuer Safety

Documentation

Team Organization

Disaster Psychology
Caring for Yourself, Your Teammates and Victims

Search and Rescue Size-up

Conducting Search Operations

Conducting Rescue Operations

Terrorism and CERT
Final Review and Disaster Simulation

What Terrorism is

Terrorist Weapons

B-NICE Indicators

CERTs and Terrorist Incidents

A review of key points from the course

A final exercise simulating a disaster