Sample Vision Plans
The City of Newport's consultant, HDR, Inc., has provided sample vision plans (below) to help the residents of greater Newport see how information gathered through community-wide outreach and engagement can be molded into vision statements and strategies to inform future decision making. It is important to emphasize that these plans were tailored to fit the unique needs of each community (i.e. there is no one size fits all approach).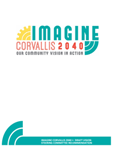 Imagine Corvallis. Corvallis will continue its action planning in 2017, but they've mostly settled on their overall vision and their focus area vision statements. This sample includes the summary vision (short, one pager) and the vision statements for each of the focus areas. At the end of this document is a sample of their action planning template. It includes strategies derived directly from the vision statements and a matrix for actions (which, in this case, included community suggestions that have not been vetted). The last page is included because it shows how to go from vision to strategies.
Our Dallas 2030. In their case, they chose to have more detailed descriptive statements in each focus area. Their Vision Elements included with each focus area were prioritized at their city council's retreat, from which they built (and continue to build) their annual work plan. They did not pursue a full-blown action plan. Instead, the work plan was limited to what the City would do short-term (one-two years). They have, less formally, continued to pursue with community partners vision ideas that are outside the City's core responsibilities. This vision was well embraced by the Mayor, who served as its champion in the community.

Coeur d'Alene 2030 and Our Valley (North Central Washington) both include the elements from the previous two vision plans but are designed and formatted for wide-spread community partner use. Their action plans are ongoing efforts to systematically address each of their strategies.