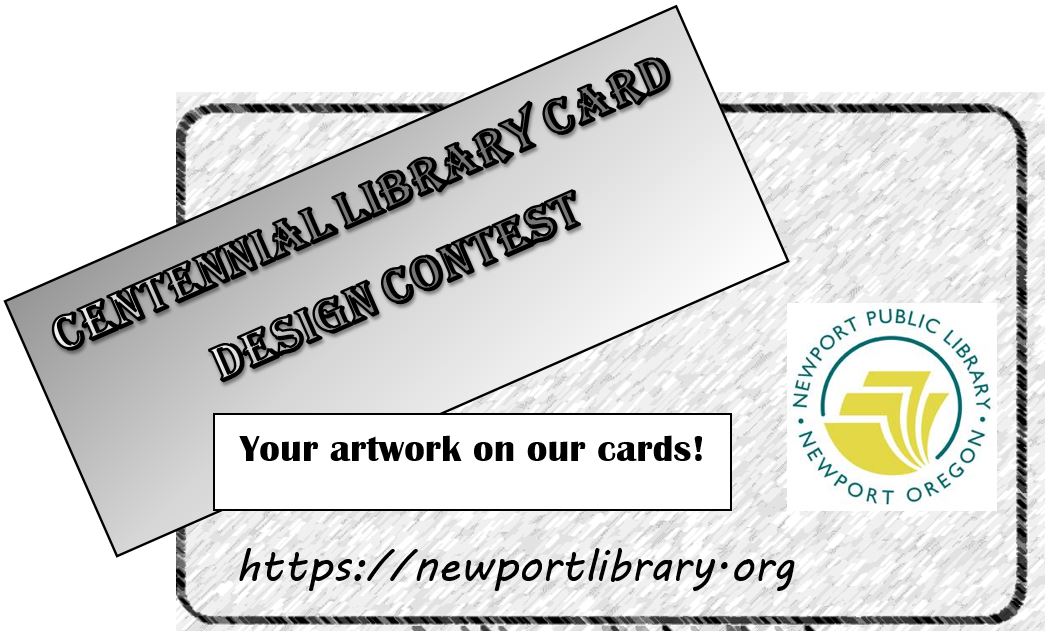 Centennial Library Card Design Contest
Deadline Extended to November 2
As part of our efforts to celebrate the centennial at the library, we are issuing a Centennial Library Card Design Contest.
Rules:
• Open to all Lincoln County residents.
• Designs must be completed using a 7" x 4.25" (go to the template to download a copy).
• Artwork can be traditional (colored pencil, pen, paint, etc.) or computer-generated graphics.
• Digital submissions must have a resolution of 300 dpi or higher.
• Digital image size is 1050 pixels x 639 pixels (or 3.5" x 2.13").
• Artwork must be original, previously unpublished and free of copyright restrictions.
• Do not include your name within the borders of the page.
• Upon submission, The Newport Public Library has all rights to the artwork and its display.
• Library may showcase/reproduce all submitted artwork without limitation or compensation.
• Entries must be accompanied by a signed entry form including: name, address, email address, phone number, and artist's age.
• Horizontal and vertical designs are welcome.
• Limit one (1) entry per person.
Deadlines:

• Design entry submission period: September 14 - November 2, 2019
• Three finalists announced: November 8, 2019
• Public voting on the finalist's designs: November 12 - November 18, 2019
• Winner announced: November 22, 2019
• Centennial Commemorative library cards available: January 2020

Submission:

• Artwork must be submitted to the Library by November 2, 2019
• Email digital artwork to: l.kimberly@newportlibrary.org
• Drop off or mail to: Newport Public Library, Centennial Planning Committee, 35 NW Nye Street, Newport, OR 97365