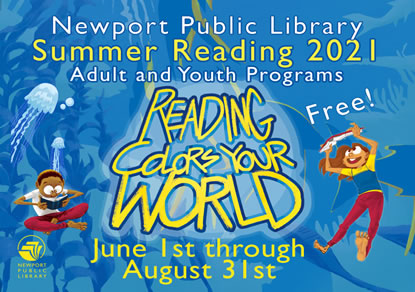 We are excited to announce that once again we will be offering a Summer Reading Program for all ages! The theme is Reading Colors Your World, and this will influence all programs, prizes and signage for 2021. The Newport public Library looks forward to welcoming you back for another summer of fun, prizes and, of course, reading!
For our adult patrons we have a facinating presentation series with author Tod Davies. Tod Davies is the author of The History of Arcadia visionary fiction series and the Jam Today cookbook/ memoir series and is the editorial director of indie Exterminating Angel Press. Davies will present a three-part series on Visonary Fiction the third Tuesday of June, july, and August from 6-7 pm via Zoom. Participants will have an opportunity to win a free copy of one of Tod's books.
For our Adult Summer Reading Program participants, we are offering a book log and weekly prize basket drawings. Each amazing prize basket is inspired by a color. Return your raffle tickets (1 book = 1 ticket) to be entered. Drawings are scheduled for every Friday begining on June 18th.
June 1


Summer Reading registration begins!

Summer reading starts! Visit the Library to pick up your raffle tickets and reading logs! We are open Tues-Fri 10AM to 5PM.

Month of June Take Home Kit

June 15th 6-7pm LIVE Virtual Event
A recording of the live event is now available.

June 18th
The first raffle drawing! This week's prize is our Yellow-themed Basket.

June 25th
Raffle drawing! This week's prize is our Blue-themed Basket.

Month of July Take Home Kit

Month of August Take Home Kit
Make your own Beeswax Food Wrapper!

August 17th 6-7pm LIVE Virtual Event
**Check out our Youth and Family page for more Summer Reading 2021 activities!