taught by Karen Frantz
Friday, November 1, 1:00 - 3:00 p.m.
Registration Required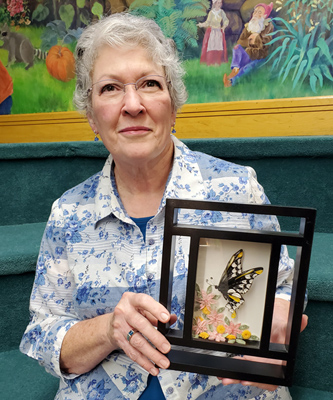 Local artist Karen Frantz will teach students to make a quilled pointsettia, which can be used to decorate candles or other holiday items.
She will provide all supplies, and each student will take away their completed project and a sample supply of quilling paper.
Class size is limited to 25, so registration is required. Please call the Library at 541-265-2153 to sign up for this free class.
---
Quilling, the coiling and shaping of narrow paper strips to create a design, has been around for hundreds of years. During the Renaissance, nuns and monks would roll gold-gilded paper remnants trimmed during the bookmaking process, and use them to decorate religious objects as an alternative to costly gold filigree.
Quilling later became a pastime of 18th and 19th century young ladies in England, who would decorate tea caddies and pieces of furniture with paper filigree. Jane Austen wrote in her book Sense and Sensibility that Lucy was quilling a filigree basket. The Brontë sisters were also quillers.
The practice crossed the Atlantic with colonists, who added quilling to candle sconces and trays as home decorations.