Cardio/Strength Training Area
Forty-nine strength training and cardio machines including elliptical machines, treadmills, recumbent bikes, upright bikes, stair climbers, rowing machine, Smith machine, strength training machines, cable cross machines, vertical knee lift, inner/outer thigh machine, and a large selection of free weights, dumbbells, bars, benches, and equipment.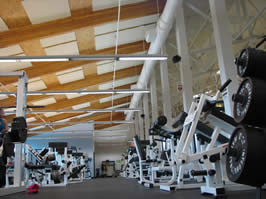 Circuit Training Room

We offer a variety of exercise equipment in our Circuit Room; stability balls, kettlebells, weighted balls and dumbbells. We've opened the floor space up to allow for more stretching mats, jump rope and step block use.

 
Bridge Area

Row machines, stair climbers, Nu-Step, stationary and recumbent bikes are available on the Bridge with stretching mats and more
Indoor Track
Two lanes, 11.2 laps per mile
Shock-absorbing surface
Full Size Gym 

Drop-in basketball, volleyball and more
Rental times available

Capacity 638 people
Multi-purpose Gym

Drop-in soccer, hockey, tennis, pickleball,
& recreational skating.
Martial arts, gymnastics, indoor park, and multiple use.

Rental times available

Capacity 366 people
Large Multi-Purpose Room (dividable)  
Available for wedding receptions, special events, meetings and parties.
Kitchen and some culinary equipment available
Rental times available (full or 1/2 room) 
Capacity 132 people
Aerobics/Dance Room

Shock-absorbing wood floor
Ballet bar and mirrored walls

Rental times available

Capacity 40
Secondary Aerobics/Dance room
and Meeting Room

Carpeted floor
Mirrored wall

Rental times available

Capacity 35 people
Classroom & Meeting Room (dividable) 

Perfect for training sessions, meetings,
parties, baby showers, etc.

Rental times available

Capacity 36 people
                                                          

Child Center
Our Child Center is used for our Schools-out Program and our Summer Activities Club. It is also used for Friday night "date night" child-care.
The Child Center is furnished with:
Low counter tops and child-sized furnishings
Individual restroom
Lots of games, toys, and dedicated staff members to care for our most precious patrons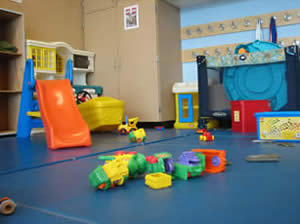 Family changing room

(designed for parents with young children)

Single-use dressing room for:
Special needs
Individual shower
Locker/shower rooms  

Daily lockers free (bring a padlock)
Elevator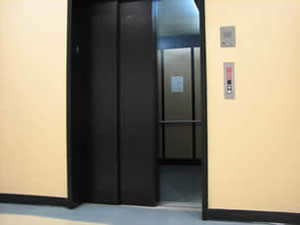 For the safety of your child, the Newport Recreation Department's policy states that children in 5th grade or lower are allowed to be in the building only under supervision by a parent or caregiver who is at least in 6th grade or 12 years of age unless they are attending a specific program, class, or open gym time for grade 5 and lower.
If a child in the 5th grade (11 years old) or younger is left unsupervised at the Recreation Center, staff will contact the parents and inform them of the policy.  Failure to communicate with the parent will result in notifying the authorities.  Also, a letter will be either mailed or sent with the child indicating the policy.