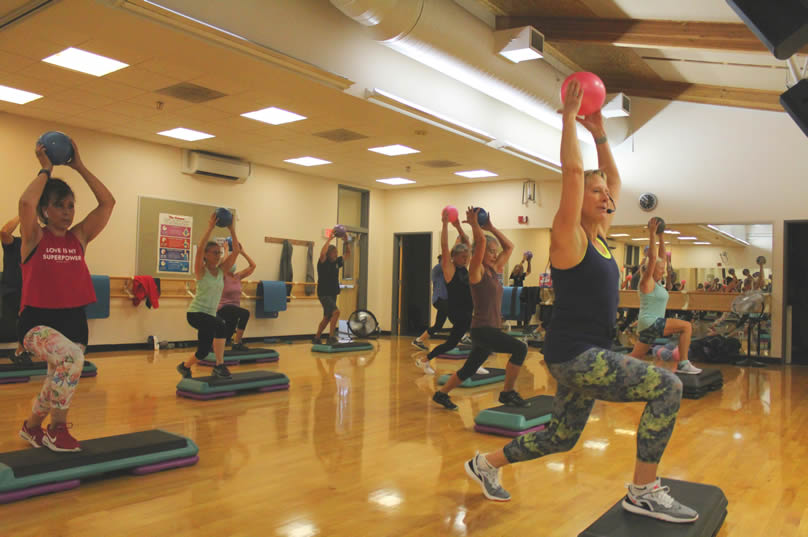 Try our new 10-Class Cards! Good for any fee class at the Recreation or Aquatic Centers
$67.50 Resident/$81.00 Non-resident

Cardio & More!
Tuesday Class:
An interactive upbeat class that challenges the body and the brain!
Body conditioning and balance exercises using a variety of equipment.

Thursday Class:
Fun and simple Step & Floor cardio intervals. Core conditioning using a variety of equipment to keep you entertained!

Friday Class:
30 minutes calorie burning cardio and 30 minutes stress-reducing stretching.

Tuesday & Thursday, 8:00-9:00am
Friday, 11:30am – 12:30pm

Instructors
T/Th: Brenda Luntzel
F: Rebecca Sinnhuber

Free with Annual Pass
Without Annual Pass: $7.50 Resident, $9.00 Non-resident


Flex N' Stretch
A fun, seated and standing class that includes cardio bursts, brain fitness exercises, muscle toning, and balance with 15 minutes of stretching at the end.
This class is great for anyone wanting a multi-dimensional workout.

Tuesday & Thursday, 9:15-10:15am
Wednesday & Friday, 10:00-11:00am

Instructor: Brenda Luntzel
Free with Annual Pass
Without Annual Pass: $7.50 Resident, $9.00 Non-resident


Aqua Interval 
Warm water to soothe and support your body while you go through a blend of wonderful exercises. Range of movement, balance, core strength, walking, and
stretching included.

Tuesday & Thursday 11:00am-12:00pm

Instructor: Rebecca Sinnhuber
(Drop-in fee required)
$7.50 Resident, $9.00 Non-resident
(Pre-registration is required for every class)
Deep Water Workout
   A vigorous workout that includes deep and shallow water cardio, core and balance exercises. Aqua belts are used during the deep-water exercises. Swimming skills are encouraged.

Wednesday & Friday 8:30-9:30am

Instructor: Brenda Luntzel
(Drop-in fee required)
$7.50 Resident, $9.00 Non-resident
(Pre-registration is required for every class)

Kickbox
An invigorating workout using "kickboxinspired" movements that will help tone all of those stubborn areas – arms, abs, glutes, back and thighs. Get your heartrate up, break a sweat and have fun doing it!

Tuesdays, 6:00-7:00pm

Instructor: Jorge Glez
Class is designed for all levels.
Try your first class for FREE!!
$7.50 Resident, $9.00 Non-resident


Yoga Flow
Yoga is a fun and creative way to improve your strength, flexibility and balance, decrease stress and calm your mind. This class is a unique blend of mat
and standing exercises, following the fundamental principles of Yoga.

Tuesday 4:15-5:15pm

Instructor: Kacey Baxter
Try your first class for FREE!!
$7.50 Resident, $9.00 Non-resident
Stand Up and Stay Strong Level 1
A Balance Exercise & Education Program
Age gracefully and stay steady on your feet. Help make your daily activities easier and have more energy living life! Learn strategies to improve your balance, postural stability and range of motion. Each 60-minute class has a 20-minute education segment and 40-minute exercise segment. Come dressed with flat shoes and comfortable clothing.

4 week class
Fridays: 1:00-2:00pm
Oct 6-27
Instructor: Rebecca Sinhubber
$40.00/Residents $45.00/Non-Residents
Pre- registration is required. Minimum 5 persons


First Steps
Need some encouragement to get started on your fitness journey? This program is designed for people of all shapes, sizes, and abilities to feel comfortable and
accepted in a fitness/recreation environment. This multi-week program is designed to provide opportunities and encourage fellowship for those who need a helping hand getting into movement.

The first "step" of the program is a multi-week package. It includes a 20 visit pass, a one-on-one training session with our fitness specialist, two organized outdoor walks, two scheduled group support sessions, a special First Steps Journal, and 2 additional visits you can use for yourself or a friend!It is encouraged to complete this program within 12 weeks, but everyone will have their own pace.
We recommend visiting the Recreation and/or Aquatic Center twice a week during this program.Please pick up your 22 visit pass and your journal at the front desk at the Recreation Center.
$140 Resident, $150 Non-Resident
EQUIPMENT TRAINING AND EXERCISE PROGRAM DESIGN
Set yourself up for success! Whether you are new to exercise in a gym or need some inspiration for a new and more challenging routine. Wherever you are in your journey to better health and fitness, you will benefit greatly from this. You will get a comprehensive personal consult, training on the equipment and a plan of action that
has purpose and a positive outcome.

To schedule a training with Brenda Luntzel, Fitness Specialist at the Recreation Center, ask for the sign-up form at the front desk or call her directly at 541-574-5863.

A consult and/or equipment training is approximately one hour.
$30.00 fee for residents and
$35.00 fee for non-residents
.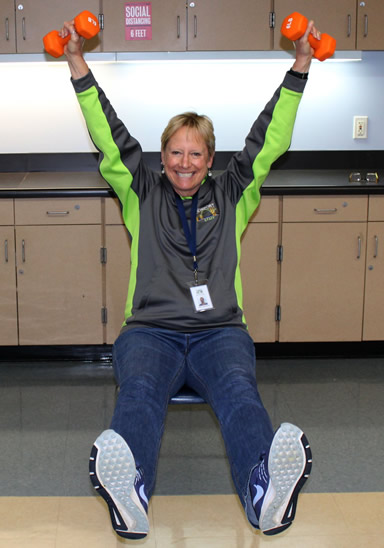 Brenda is certified both as a Personal Trainer and Medical Exercise Specialist from American Council on Exercise (ACE). She has 38 years of experience in fitness/health programs and teaching land and water group exercise that includes 2 years at the Newport Recreation Center, and 36 years with the YMCA and Rockwood Retirement Community in Spokane, Washington. She has focused on creating exercise programs for adults to include core strength, posturing, and balance as they relate to functional fitness or to meet special needs.
She has experience working with all age groups.