Dorothy Black Crow
The Black Cradleboard
Saturday, November 16, 2:00 p.m.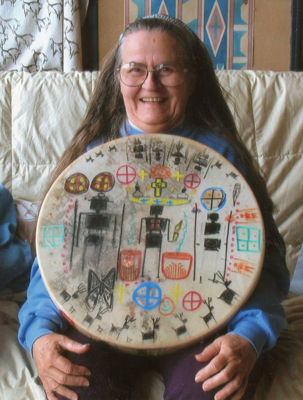 Dorothy Black Crow will give a reading from her latest novel, The Black Cradleboard, the second book in her Lakota Mystery Series.
A black cradleboard. A dead baby. In a secret Vision Cave. On Turning Hawk land. Who knew of the Vision Cave? Who blackened the cradleboard? Who killed the baby? Alex Turning Hawk, a young medicine man, and his very pregnant wife Tate, must find who is threatening their land and why. As the mystery deepens, Alex follows one path, Tate another, and Alex's mother a third path, until answers emerge from the past:.
While living on Pine Ridge Reservation in the 1970s & 80s, Dorothy married a Lakota spiritual leader, raised a sacred herd of buffalo, and taught at Oglala Lakota College. She has been an editor at Calyx and has served on the boards of Writers on the Edge; Willamette Writers, and the Oregon Poetry Association. She is now a co-chair of Willamette Writers-Coast Branch.
Her books are The Fourth Wise One: Wichoni's Journey, (2008), Anuk-Ité: Double-Face Woman Poems (2012). The Handless Maiden, A Lakota Mystery, (2014). Belonging to the Black Crows, A Memoir, (2016), The Black Cradleboard, A Lakota Mystery (2019).
This program is free and open to the public.