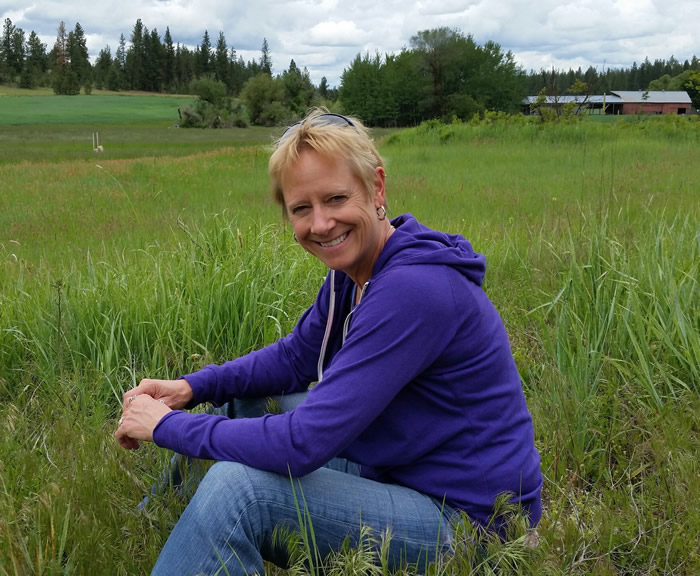 AQUA INTERVAL CLASS
Free with Annual Pass
Tuesday & Thursday 12:00-1:00pm
10 classes/$50 or $6 drop-in fee
Instructor: Brenda Luntzel
Interval training using the current channel, deep water exercises, steps, balance and body conditioning. A wonderful warm water workout for any age or ability. Easy to moderate intensity. Swimming skills not necessary. Unless specified, all group exercise classes are held in the Aerobics/Dance Room
STRETCHING CLASS (REVISED DAYS & TIMES)
Free with Annual Pass
Monday & Wednesday: 1:00-2:00pm
(No classes on Wed. 12/25, Mon. 1/20, Mon. 2/17)
10 classes/$50 or $6 drop-in fee
This class focuses on different ways to stretch to improve flexibility and range of motion. Learn how to stretch the right way and what muscles need to be stretched for spinal health, posture and injury prevention. Stretches done in a chair and on mats.
EQUIPMENT TRAINING AND EXERCISE PROGRAM DESIGN
A consult and/or equipment training is approximately one hour.
Free with annual pass or $25 drop-in fee
Brenda Luntzel is our Fitness Specialist at the Recreation and Aquatic Center.
Brenda's hours vary. If you want to schedule any training on fitness equipment or need assistance with your current or new exercise program design, please fill out an appointment form or call her directly. Please call 541-574-5863 to contact her.
Brenda is certified both as a Personal Trainer and Medical Exercise Specialist from American Council on Exercise (ACE). She has 38 years of experience in fitness/health programs and teaching land and water group exercise that includes 2 years at the Newport Recreation Center, and 36 years with the YMCA and Rockwood Retirement Community in Spokane, Washington. She has focused on creating exercise programs for adults to include core strength, posturing, and balance as they relate to functional fitness or to meet special needs.
She has experience working with any age group
CROSS TRAIN WORKOUT
Free with Annual Pass
Monday, Wednesday, and Friday, 8:00-9:00am (No classes on Wed. 12/25, Mon. 1/20, Mon. 2/17) z
10 classes/$50 or $6.00 drop-in fee
Instructor: Brenda Luntzel
Includes a warm-up, moderate intensity aerobic patterns, and body conditioning using a variety of exercise toys.
Both standing and floor exercises that work the core.
CARDIO FITNESS PLUS CLASS
Free with Annual Pass
Tuesdays & Thursdays, 10:15 – 11:15 a.m.
(No class on Tues. 12/24)
10 classes/$50 or $6 drop-in fee - First class is free
Instructor: Jacquelyn Oakes
This high energy class offers low or high impact aerobics PLUS mat exercises that help tone and strengthen joints and muscles. Drop-ins welcome!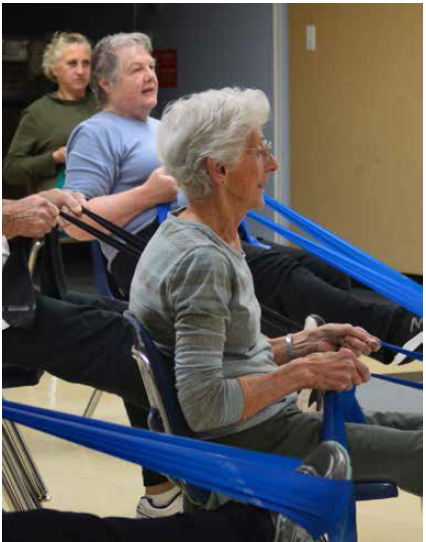 STRETCH & FLEX
Free with Annual Pass
Monday, Wednesday & Friday, 9:15 – 10:00 am (No class Mon. 2/17) 10 classes/$25.00 or $4.00 drop-in fee
Instructor: Brenda Luntzel
Class is held in Multi-Purpose Room A/B A fun seated and standing fitness class that includes active stretching, brain fitness, muscle conditioning and some balance. This class is great for new exercisers, older adults, post rehab, or anyone wanting a quick, versatile and fun workout. Try it as a warm up or cool down to complement your exercise routine.

ON THE BALL (new class)
Free with annual pass
8:00-9:00am/Tuesday & Thursday
$6/class or $50.00/10.
Instructor: Jamie Butler
This class focuses on core engaging workouts using the big ball, along with total body conditioning using weights, tubing and other equipment.

ON A ROLL (new class)
Free With Annual Pass
9:30-10:00am/Tuesday & Thursday
Instructor: Jamie Butler
30 minutes of muscle relaxation and tension relief through guided foam roller movements and mat stretches.
A great way to work out the fascia kinks, muscular knots and tension. Rollers provided
without annual pass.
DANCE FIT
Thursday, 6:30-7:30pm
Saturday 8-9am
(No classes on Sat., 2/15, 3/14, 4/4, 5/23/ 6/20 and Thu.: 3/26, 4/23, 6/18)
$7 Drop-in, $6:30 10 Punch Card
Instructor: Vicor Cortez
Dance now and feel great & young with a lot of energy. Dance with your inner athlete & be happy!






GENTLE FLOW YOGA
Tuesday & Thursday 6:00 pm – 7:15 pm $10.00/ Drop in OR $40.00 when pre-paying for 5 classes
(No Class December 19, 24, 26, 31, & Jan 2)
Instructor: Sallie Inman
If you are curious about yoga but hesitate to try it, this may be your class. Modifications are given with most postures so a person can choose what feels best for his or her body. Warming up the joints with soft, easy stretching and then exploring the slow flow of movement will immediately leave you feeling relaxed, yet energized.
Conscious awareness of the breath and the "thinking" mind are integral to every class. Participants are guided to stay focused during movement and stillness.
Each session includes intentional breathing and short meditations.
NEWPORT WALKING CLUB
The Newport Walking Club is a community club, started to encourage people in our community to get out and walk and is sponsored by the Newport Parks and Recreation Department. The club has a great website that allows members to schedule walks and invite others. http://www.meetup.com/Newport-Walking-Club/