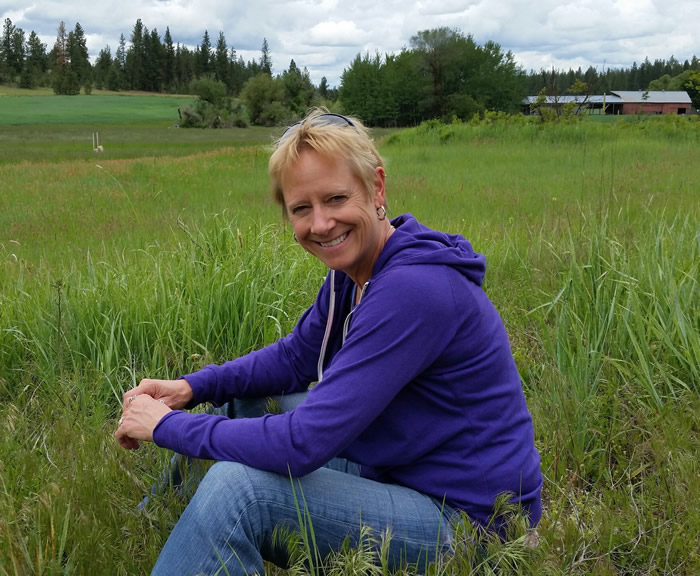 EQUIPMENT TRAINING AND EXERCISE PROGRAM DESIGN
A consult and/or equipment training is approximately one hour.
Free with annual pass or $15 dropin fee
Brenda Luntzel is our Fitness Specialist at the Recreation and Aquatic Center. Brenda's hours vary.
If you want to schedule any training on fitness equipment or need assistance with your current or new exercise program design, please fill out an appointment form or call her directly. Please call 541-574-5863 to contact her.
Brenda is certified both as a Personal Trainer and Medical Exercise Specialist from American Council on Exercise (ACE). She has 35 years of experience in fitness management and teaching land and water group exercise that includes both the YMCA of the Inland Northwest and Rockwood Retirement Community in Spokane, Washington.
She has focused on creating exercise programs for adults to include core strength, posturing, and balance as they relate to functional fitness or to meet special needs. She has experience working with any age group.

CARDIO & CORE CLASS
Free with Annual Pass
Monday, Wednesday, and Friday, 8:00-9:00am (No
class May 27th)
10 classes/$50 or $6.00 drop-in fee
Instructor: Brenda Luntzel
Includes a warm-up, moderate intensity aerobic patterns, and body conditioning using a variety of exercise toys. Both standing and floor exercises that work the core.
NEW STRETCHING CLASS
Free with Annual Pass
Wednesdays: 2:30-3:30pm
10 classes/$50 or $6 drop-in fee
This class focuses on different ways to stretch to improve flexibility and range of motion. Learn how to stretch the right way and what muscles need to be stretched for spinal health, posture and injury prevention. Stretches are done in a chair and on mats.
STEP INTERVAL CLASS
Free with Annual Pass
Tuesdays & Thursdays, 7:00-7:50am
10 classes/$50 or $6 drop-in fee
Instructor: Brenda Luntzel
An interval class combining floor & step movement intervals along with muscle conditioning intervals using mats and standing exercises. Good stretching at the end!
**CARDIO FITNESS PLUS CLASS
Free with Annual Pass
Tuesdays & Thursdays, 10:15 – 11:15 a.m.
10 classes/$50 or $6 drop-in fee - First class is free
Instructor: Jacquelyn Oakes
**Formerly MACC (Moderate Aerobic Conditioning Class)
This high energy class offers low or high impact aerobics PLUS mat exercises that help tone and strengthen joints and muscles. Drop-ins welcome!
STRETCH & FLEX
Free with Annual Pass
Monday, Wednesday & Friday, 9:15 – 9:45 am (No class 5/27)
10 classes/$25.00 or $4.00 drop-in fee
Instructor: Brenda Luntzel
A fun seated and standing fitness class that includes active stretching, brain fitness, muscle conditioning and some balance. This class is great for new exercisers, older adults, post rehab, or anyone wanting a quick, versatile and fun workout. Try it as a warm up or cool down to complement your exercise routine.
OLYMPIC-STYLE TAE KWON DO - ADULT
Mondays & Fridays 5:30 – 6:30 p.m.
(No class May 27)
Wednesdays 4:30 – 5:30 p.m.
$35.00/month
Instructor: Ben Tarr
Learn traditional and Olympic styles with USTU, WRF certified instructor. Increase confidence, physical fitness, flexibility, strength, and self-discipline while becoming part of this exciting sport. Try the first two classes for free and see if you like it.
YOGA THERAPY
A Segue to Physical Therapy
Tuesdays 4:00 - 5:30 pm
$12.00 Drop in OR 10 punch pass for $96.00
Instructor: Karen Kennedy
Please pre-register at the desk. Forms are kept confidential. Yoga Therapy is for all phases of stiffness and for those starting to feel they are "just not able to get at the lower or higher shelves at the supermarket". Many people turn to Yoga Therapy for much relief from multiple body issues like: Back pains, sciatic pains, headaches, shallow breathing, restlessness, sleeplessness, faulty alignment, rigid fascia, balance, muscle atrophy, tension and some depressions. All poses are slow with alignment focus - designed for each individual. Join in our class and find your ongoing release of muscle stiffness and learn the therapeutic ways to make your body your friend. Have a Handy Body. "Always check with your physician to know if Yoga Therapy is right for you" Certified yoga teacher and therapist Karen Kennedy. (541) 563 3006
NEWPORT WALKING CLUB
The Newport Walking Club is a community club, started to encourage people in our community to get out and walk and is sponsored by the Newport Parks and Recreation Department. The club has a great website that allows members to schedule walks and invite others. http://www.meetup.com/Newport-Walking-Club/