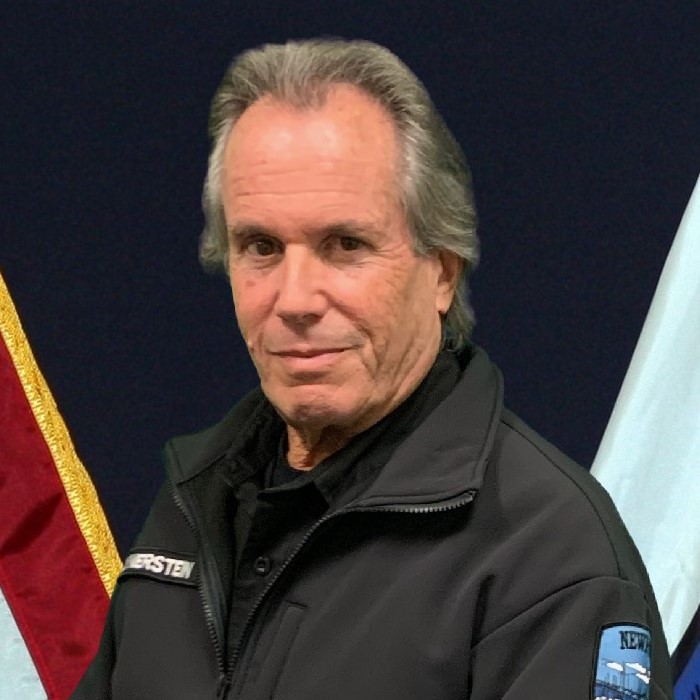 Chaplain Don Dinerstein was appointed as NPD's Chaplain in October, 2023. He presently serves as the Security Supervisor for the South Beach Church Safety Team. His duties there include staffing, training, and implementing a security team of ten participating volunteers (including former law enforcement and military veterans) to observe and recognize any potential threats to the safety of the congregation, guests, staff, and Pastors.
Prior to Chaplain Dinerstein's relocation to Newport, he and his wife raised their children in Connecticut. "It was there, when as a first responder EMT, I joined a team of Chaplains and ministered to firefighters and police working the "Mound" in the aftermath of 9/11. The inspiration drawn from that experience led me on a path to become a Crisis Chaplain, and serve in various public safety and law enforcement roles." While residing in Stonington, Connecticut, he served as a first responder, EMT, Crisis Chaplain, and Fire-Police Officer for the Old Mystic Fire Department. He was responsible for the emergency medical care and emotional crisis support of victims at fire, MVA's and medical emergencies. As a Fire/Police officer, he was responsible for scene safety in association with local police for 'on-scene' crowd and traffic control, including assisting State Troopers on the interstate and local roadways. In 2004, he received an honorable mention and an award for being number five of the top ten first responders for the year, having attended over three hundred medical, MVA, and fire emergencies that year.
Chaplain Dinerstein's current certifications include:
Oregon's Chaplains Academy DPSST 2023 certification.
Police Crisis Chaplain certification, Norwich Police Department, Norwich CT
License/Ordination as Chaplain by Calvary Chapel of Southeastern Connecticut.
Individual Crisis Intervention and Peer Support certification, Yale School of Medicine.
Critical Incident Stress Management, UMBC Honors University, Maryland.
Hazardous Materials Awareness, Connecticut Fire Academy.
Emergency Medical Technician National Registry of Emergency Medical Technicians (presently inactive)
American Heart Association Healthcare Provider CPR/AED (Active)
Chaplains of all faiths work with law enforcement personnel on a professional level by making themselves immediately available as trained and caring professionals who can assist in times of loss, confusion, depression, or grief to people in crisis situations. The Chaplains provide this service not only to the community, but also to all Department employees and their families as well.

Some of the duties of the Police Chaplain may include riding along with officers on routine patrol on various shifts; accompanying a police officer to assist with notification of any suicide, death or serious injury; counseling Department members in response to stress or family crisis problems; visiting with sick or injured members of the Department at their home or in the hospital; offering prayers at special occasions such as recruit graduations, award ceremonies and dedications; advising the Chief of Police in all matters of a religious nature involving the Police Department and performance of law enforcement duties in the community. Further, Chaplains act as liaison with local ministerial associations and on matters pertaining to the moral, spiritual, and religious welfare of police personnel.
Chaplain's provide a valuable resource for us to utilize. This includes, but is not limited to:
Assisting in making notification to families of members who have been seriously injured or killed and, after notification, responding to the hospital or home of the member.
Visiting sick or injured members in the hospital or at home.
Attending and participating, when requested, in funerals of active or retired members.
Serving as a resource for members when dealing with the public in incidents, such as accidental deaths, suicides, suicidal subjects, serious accidents, drug and alcohol abuse and other such situations that may arise.
Providing counseling and support for members and their families.
Being alert to the needs of members and their families.
Assisting members in the diffusion of a conflict or incident, when requested.
Responding to natural and accidental deaths, suicides and attempted suicides, family disturbances and any other incident that in the judgment of the Shift Supervisor or supervisor aids in accomplishing the mission of the Department.
Responding to all major disasters, such as natural disasters, bombings and similar critical incidents.
Being on-call and, if possible, on-duty during major demonstrations or any public function that requires the presence of a large number of department members.
Attending department and academy graduations, ceremonies and social events and offering invocations and benedictions, as requested.
Participating in in-service training classes.
Former Chaplains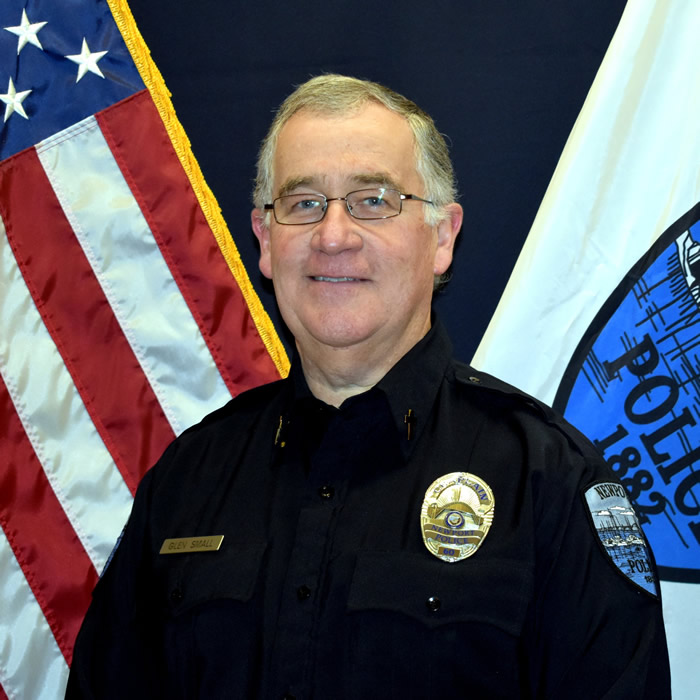 Pastor Glen Small was appointed as NPD's Chaplain in April, 2014. Pastor Small has been the Senior Pastor at First Baptist Church since August of 2000. He attended Judson Baptist College in Portland and The Dalles, Oregon, earning a degree in Elementary Education. He taught elementary school at Valley Christian in Missoula, Montana for six years. In 1990, he left Valley Christian to become the Senior Pastor of Emmanuel Baptist Church, also in Missoula.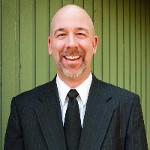 Pastor Derek Helt served as NPD Chaplain from 2009 until February, 2014, after accepting a position with Agape International Missions in Phnom Penh, Cambodia. He was Pastor at Newport First Christian Church for nearly 15 years.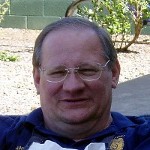 Dr. Bill Grigory served as NPD Chaplain from 2004 until February, 2009, when he relocated to Southern California. Dr. Grigory was Pastor at Newport Church of the Nazarene.  He received his bachelor of Arts from Mid America Nazarene University in Olathe, Kansas.  He then graduated from Nazarene Theological Seminary, where he received his Master of Divinity and his Doctorate of Ministry.