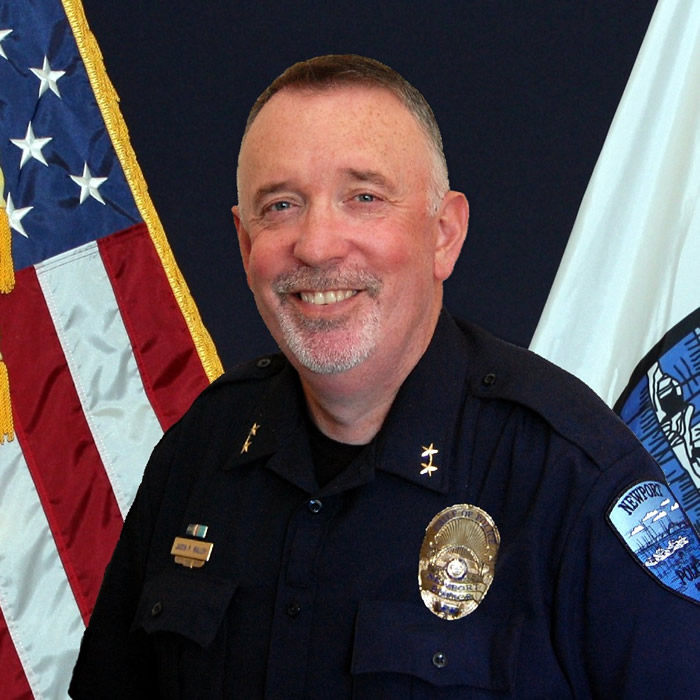 Chief of Police Jason Malloy has been with the Newport Police Department since December 1994.  He has worked various assignments in the Patrol Division, to include Field Training Officer, Traffic Officer, Major Crash Team, and Drug Recognition Expert.  He was promoted through the ranks from Officer to Sergeant in 2004, Sergeant to Lieutenant in 2010, and Interim Chief of Police in October 2016. On July 17, 2017, he was appointed Chief of Police.
Chief Malloy came to Newport from Waldport, where he was a police officer from 1993-1994.  Prior to working in Waldport, he began his law enforcement career as a part-time dispatcher and Reserve Police Officer for the City of Toledo.  Chief Malloy is an instructor in various law enforcement topics.  He has taught law enforcement and civilian personnel throughout western Oregon.
Chief Malloy holds a Bachelor of Science in Criminal Justice from Liberty University, and his Executive Police Certification from the Oregon Department of Public Safety Standards and Training (DPSST).  He graduated from the Federal Bureau of Investigations 261st National Academy Class in Quantico, Virginia in 2015, the DPSST Middle Management Course in 2014, the Oregon Executive Development Institute in 2007, the DPSST Supervision Course in 2005, the Results Groups Sergeants Academy in 2004, and the DPSST Basic Police Class #182 in 1993 .
Chief Malloy is a member of the International Association of Chiefs of Police, the Oregon Association of Chiefs of Police, and the FBI National Academy Associates.  Chief Malloy is involved with numerous community and business organizations in Newport.  He is a member of the Newport High School Boosters, where he has served as President and Vice President.  He is an active volunteer as a coach with youth baseball and basketball, and as an assistant high school baseball coach.