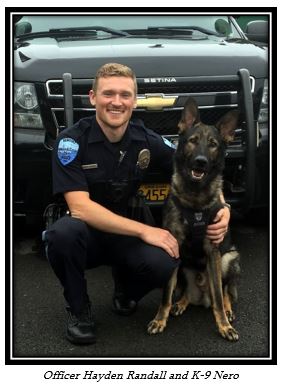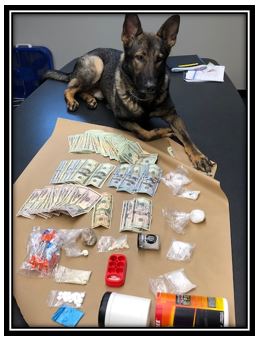 After receiving the support and approval from the City Council, the Newport Police Department implemented a narcotics detection canine to the Patrol Division. The funds budgeted by the Police Department for the K-9 program were years in the making, as the Department saw the benefit and need of a K-9 team.
In February 2017, the Newport Police Department purchased a two-year-old Belgian Malinois/German Shepherd mix named "Nero" from Pacific Coast K-9 in Custer, Washington. Nero detects the odor of Methamphetamine, Heroin and Cocaine.
Nero was paired with Officer Hayden Randall, and they received three weeks of in-house training from Officer Dustin Watson, who is a former Narcotics K-9 Handler, and a current trainer with the Oregon Police Canine Association (OPCA).
After receiving training, Officer Randall and Nero passed the OPCA Narcotics Detection Standards certifying them as a K-9 team in the State of Oregon. The OPCA certification test includes the search of buildings, vehicles, rooms, and outdoor areas. To pass the OPCA certification test, K-9 teams must obtain 100% accuracy.
K-9 Nero has been deployed multiple times in many different applications, including traffic stops, search warrants, jail sweeps, and school sweeps. K-9 Nero was also deployed for several different Lincoln County law enforcement agencies, as well as federal agencies. K-9 Nero has aided in several narcotics investigations that have led to the seizure of substantial amounts of Methamphetamine, Heroin, and U.S. currency obtained from the sale of illegal narcotics. He has quickly become a valuable asset to the Police Department and the community, making Newport a safer place to live, work, play, learn, and visit.