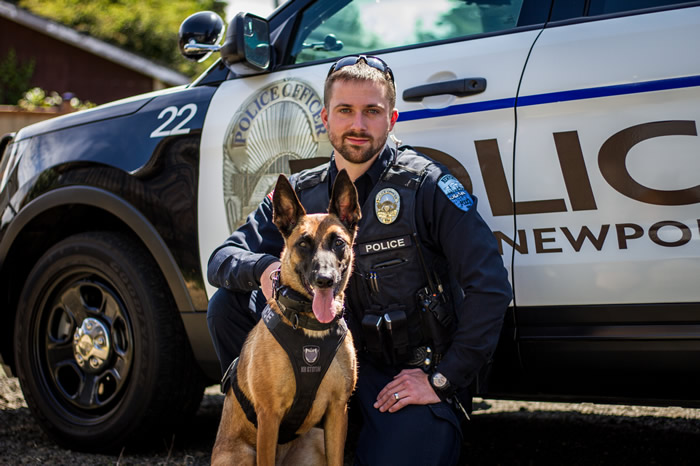 In August, 2019, our newest addition to our K9 program is K9 Zoe and her handler, Officer Aaron Bales. The pair passed their Oregon Police Canine Association (OPCA) certification test to become a Certified Narcotic Detection Team.  K9 Zoe is a five-year-old Belgian Malinois trained to detect the odor of Methamphetamine, Heroin and Cocaine. She was acquired from the State of Jefferson Working Dogs in Gold Hill, Oregon. K9 Zoe and Officer Bales completed several weeks of training prior to taking their OPCA certification test.  K9 Zoe and Officer Bales are assigned to the Patrol Division.
-------------------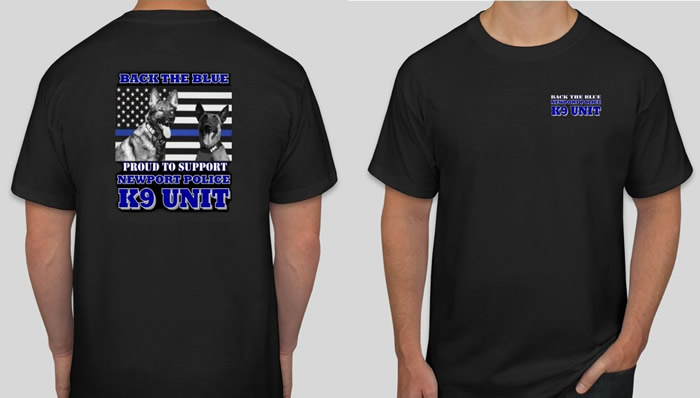 Our K9 t-shirts are available to order online! For a $25 donation (shipping included), you will receive a 100% cotton Gildan t-shirt. All proceeds go directly to our K9 program in support of K9 Nero and K9 Zoe. We currently have:

Men's sizes Medium, Large, XL, 2XL, 3XL and 4XL

Women's V-neck sizes Small, Medium, Large, XL, 2XL, 3XL and 4XL

Kid's sizes

Small, Large,and XL

(Medium is sold out)

You may order by mail by sending a check or money order made payable to:

Newport Police Volunteers Association

Newport Police Department - Attn: Kit O'Carra

169 SW Coast Hwy

Newport, OR 97365.

If you prefer to pick up a shirt at NPD in person, the donation requested is $20 per shirt. The shirts are available Monday through Friday 8:00 a.m. to 4:00 p.m. (** Please call 541-574-3348 first due to Covid-19 restrictions and limited hours of access to City Hall.)

The Newport Police Volunteers Association is a 501(c)3 non-profit organization.