In the latter months of 2008, Newport Police Department reached out to the community for support in an effort to obtain a K-9 team for drug detection work. 'Friends of Newport K-9' began fundraising efforts within the community to raise $70,000 in order to purchase a police service dog and provide training for an Officer who will be part of the K-9 team. On November 7, 2008, Officer T.J. Eriksen traveled to Portland to pick up Eyan, a two year-old German Shepherd, flown from the Czech Republic to Portland International Airport.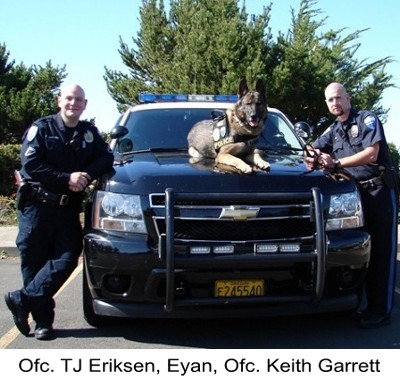 While working with Officer Eriksen, Eyan was deployed 231 times, and linked to 147 arrests. In comparison, the average number of arrests made by NPD officers during the same time period was 106. Eyan has been used by numerous agencies in Lincoln, Tillamook, Linn, and Benton Counties. Eyan directly assisted in the seizure of more than $100,000 of drug money. He has successfully detected every drug he's trained to locate, which includes Meth, Marijuana, Cocaine (crack and regular), and Heroin.
In September 2011, Officer Keith Garrett became the canine handler when Officer Eriksen left NPD to accept a position with another agency. The team of Officer Garrett and Eyan successfully completed specific tasks established by the Oregon Police Canine Association (OPCA), the certifying authority.
On November 30, 2014, Eyan retired from service with the Newport Police Department. Due to the success that Eyan and his handlers have had, the Newport Police Department is continuing the legacy created by Eyan with a new police canine.
In February, 2017, the budget allowed for the purchase of Nero, a 2-year-old German Shepherd - Belgian Malinois mix from Hungary. He is a drug detection canine and is partnered with new K-9 Handler Officer Hayden Randall.