The City of Newport Oregon has a potable water system that includes many individual components including intakes, piping networks, treatment and storage facilities, and others system components that together provide potable water to the community.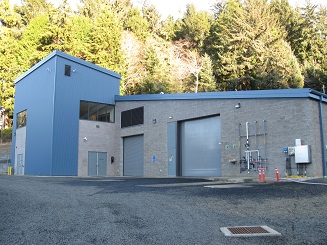 The City completed a master water planning effort that included, as part of the recommendations, a high priority project to address deficiencies related to the water treatment facilities in Newport. (Click on the "City Master Water Plan" tab on the left side of the page for more information).
The previous water treatment plant in Newport was constructed in the 1950's. The facility utilized circular solids contact clarifiers, multi-media filters, and liquid hypochlorite disinfection. The plant had been well maintained,but it has begun to show its age with numerous structural, foundation, and process problems, making peak operation a challenge.
The new plant is capable of treating about 7 million gallons a day, (expandable to 10 million gallons a day), enabling Newport to meet demand far into the future. The plant uses membrane filter technology to produce high-quality water. Tours of the water plant can be arranged by contacting the plant supervisor, Steve Stewart, at 541-574-5871.
Where does all the water go?
While the majority of the water use in the community is for domestic purposes, the City provides water to a number of high-water-demand industries. This includes an active fishing fleet, a brewery industry, hotels, restaurants, and others. The highest water demand in the system is recorded annually during the various fishery seasons as fish are processed and other dock activities result in voluminous water consumption.