Arthritis Exercise
Wednesday & Friday
9:30 - 10:30 AM
This class was designed specifically for people with arthritis and related diseases. The program's multiple components will help reduce pain and stiffness, and help maintain or improve mobility, muscle strength, and functional ability.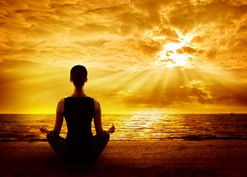 Meditation Class
Tuesday 9:00 - 10:00 AM
Meditation is now mainstream and is being practiced in many different places in many different ways. The meditation that will be taught has its roots in Zen practice. In our everyday lives we can see how complex life can be and how we need to have a place to relax and catch our breath sometimes.
In this class you will learn that this place of rest already exists in our own bodies. The most important point is to learn how to simply sit, and be comfortable and restful - a practice and tool that can be applied to any life endeavor.

Silver Sneakers Classic
Tuesday & Thursday
10:00 - 11:00 AM
Have fun and move to the music through a variety of exercises designed to increase muscular strength, range of movement and activities for daily living. Hand-held weights, elastic tubing with handles and a Silver Sneakers ball are offered for resistance.

WALK WITH EASE
Monday, Wednesday & Friday
October 4 - November 10, 2021
Walk With Ease is a free six-week, evidence-based class that is designed to reduce pain, build confidence in being physically active, and improve overall health. This program will help connect you with other community members who want to improve their health through a gentle walking program that helps them begin slowly, at a comfortable level for them and gradually increase to continue on a lifetime path to improved health.