Arthritis Exercise
Wednesday & Friday
9:30 - 10:30 AM
This class was designed specifically for people with arthritis and related diseases. The program's multiple components will help reduce pain and stiffness, and help maintain or improve mobility, muscle strength, and functional ability.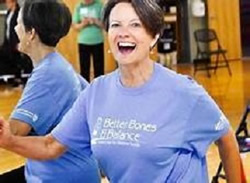 Strength & Balance
Friday
1:00 - 2:00 PM
The Better Bones & Balance Program classes are designed to gradually improve balance and strength to avoid falls and maintain independence. Thisis a video-led class.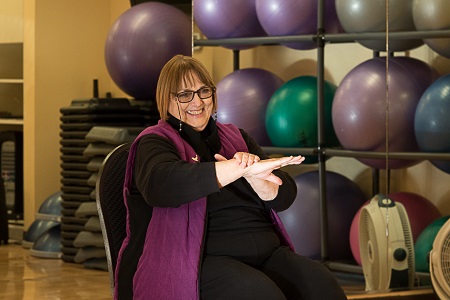 Chair Yoga
Tuesday & Thursday
11:05 - 12:00 PM
Chair Yoga accommodates people who can't get up and down easily from the floor. This style of yoga can be a very complete workout that increases flexibility and strength, while incorporating breathing techniques that are both energizing and calming.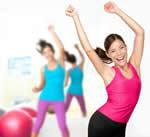 Move with Mary
Monday
10:00 - 11:00 AM
This is a 50 minute exercise class that starts off with a warm-up and moves into various exercises using weights, a ball, or a stretch band while standing or sitting. This class will improve stamina, flexibility, and balance. All abilities are welcome!
Dance with Mary
Monday
11:00 AM - 12:00 PM
This is not just a workout. It's FUN! Check out the variety of dance moves we can have fun with to our collection of music CD's.

Jin Shin Jyutsu
Third Thursday of each month
2:00 - 3:00 PM
Based on the book, The Touch of Healing: Energizing Body, Mind and Spirit with the Art of Jin Shin Jyutsu," this class will "restore you to a knowledge of yourself and your innate ability to improve the quality of your life."

Wednesdays
Beginning Line Dancing - 1:00 - 2:00 PM
Improvers Line Dancing - 2:00 - 3:00 PM
Intermediate Line Dancing - 3:00 - 4:00 PM
Are you looking for a way to stay fit and healthy? Line dancing can give you a great mind-body workout. It improves memory skills by requiring you to remember dance steps and sequences. It can help strengthen bones and muscles, increase stamina and flexibility, improve your posture and balance, and give you the opportunity to socialize at the same time.
For more information, please contact the 60+ Activity Center!
---
We all know the importance of keeping healthy and active so we have included links to some popular classses. Try these classes at home and let us know what you think
https://extension.oregonstate.edu/bbb/exercise-tutorials
Pam Gardner Silver Sneakers classic short at home
Anytime is the right time to re-engage your body with health and wellness opportunities. The Center offers many evidenced-based programs, which means they have been proven to work! These designed programs can increase your strength, balance, mobility, flexibility, and overall health. Let us help you reach your goals. Classes have different fitness levels from beginning to advanced. Please check with the class leader or Instructor to find out if the class is a match for you. We also provide fitness tests by appointment. Most of our Health and Wellness opportunities are FREE.