Survey Results
The 60+ Center Advisory board is excited to share the results of the survey of the 50-year-old and older residents of Newport and the surrounding communities: Survey Results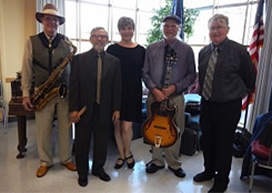 Jazz Band, Past Forward
Another Free Amazing Performance!
Saturday, October 19, 2019.
2:00 - 4:00 pm
Past Forward plays tunes from the 1920's through the 1960's with a diverse repertoire that features standards, show tunes, bossa novas and popular hits. Be sure to grab a piece of pie, a cup of coffee, and a partner for some toe tapping music!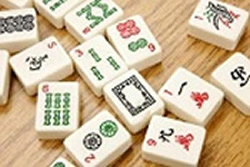 Mahjong 101
Tuedays, October 22 - November 12, 2019
10:00 am - 12:00 pm
Mahjong is a tile game of both skill and luck that originated in China many centuries ago and was brought to the West in the 1920's. The instructor will teach the American version and will break the game down into its pieces and parts and then quickly put it all together in a gaming format. Plan to be playing by the third class!

AARP Driver Safety Class
Tuesday, November 5, 2019
9:30 am - 4:30 pm
The AARP refresher class for all licensed Oregon drivers will be held in Newport on Tuesday, November 5, 2019, from 9:30 am to 4:30 pm at the Newport 60+ Activity Center (next to Newport City Hall). There will be a one-hour lunch break from 12:00 to 1:00 pm.
Class size is limited, so reservations should be made. There is a fee of $20 (to cover supplies). If you are an AARP member, there is a $5 member discount. (Please bring AARP member card.) Payment is due on the day of the class to AARP.

Filing for Social Security
Tuesday, November 5, 2019
12:00 - 1:00 pm
Social Security is our country's single largest Federal program and the sole means of support for many retirees. Remarkably, it offers a high level of flexibility to optimize your retirement income needs. Duane invites you to learn about Social Security's unexpected options.
This educational presentation about Social Security filing options includes ample opportunity for questions. There is no charge for this event, and you are welcome to bring guests.

NSCAA General Membership Meeting
Wednesday, November 6, 2019
1:30 - 2:30 pm
The Board of Directors will provide a financial update, a review of changes to the by-laws, list plans for the remainder of 2019 and early 2020, and take questions from the floor. Annual elections will be held for 2020 Board officers.
A "Dessert Extravaganza" will be served and door prizes will be raffled off.
Anyone not currently an NSCAA member will have the opportunity to join and pay the $25 dues at check-in.